The Jacques Ardies Gallery is located in Vila Mariana and occupies an old house completely renovated.
The gallery, which started its activities in August 1979, is dedicated to the dissemination and promotion of Brazilian naive art.
Over these 42 years, many exhibitions were held, 120 individual exhibitions and more than 200 group shows, in their own space and also in Museums such as MAC in Campinas, MAM in Goiânia, Espace Art 4 in Paris, Espaço Cultural de FMI in Washington, Musée International de art Naïf Anatole Jakovski in Nice, Memorial da América Latina in São Paulo, to name but a few, and also in art galleries such as Galeria Jacqueline Bricard in southern France, Galeria pro Arte Kasper in Switzerland and the Gina Gallery in Tel-Aviv – Israel.
In 1998, Jacques Ardies launched the book Arte Naif no Brasil with the collaboration of the critic Geraldo Edson de Andrade and in 2003, he published the book about the life and work of the Pernambuco artist Ivonaldo, with text by the professor and art critic Jorge Anthonio e Silva . In 2010, he launched his second book about Native Art in Brazil with text by himself and comments from 4 friends who are also in love with this art. Four years later, this same book was published in a French version.
The gallery permanently exhibits paintings and sculptures by 80 artists selected and considered to be representative of the Brazilian naive art movement.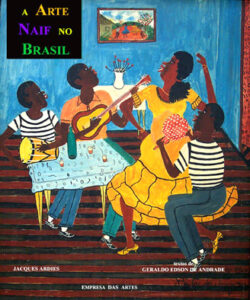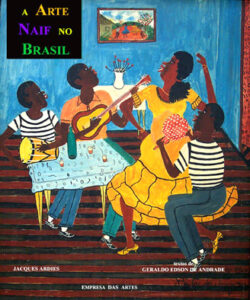 NAIF ART BOOK IN BRAZIL
And the dream came true. The publication of a book dedicated to Brazilian ARTE NAIF meets the desire to be able to present an informative and referential work of an essentially national artistic expression that represents Brazilian culture.
Brazilian naive painters have an enviable setting. Sunny beaches, joy of living, fertile land, unexplored wealth, dynamism of a great country where a tolerant and optimistic people live together, coming from a complex mixture of several generations of Indians, Portuguese, Italians, Africans, Arabs, Jews, Japanese and others. It is true that Brazil's problems are proportional to its dimension, a country of the near future, a country also of warm welcome, a passionate country.
The great sensitivity of the Brazilian people, known worldwide through music, is also demonstrated in the field of plastic arts.
Anatole Jakovsky, world famous expert in NAIF ART, wrote in 1969: "Brazil represents, together with France and Yugoslavia, one of the richest and most varied reservoirs of NAIF ART in the world". But then why is the Brazilian NAIF ART not so well known? First, it is a youth movement that debuted in the 50s, whose appearance took place in France, at the end of the last century, with the emergence of douanier Rousseau. Furthermore, it is not a style that interests official salons and museums. By definition, the naif style does not require a degree in Fine Arts, and this characteristic provokes the massive emergence of painters who serve the decorative and souvenir market, thus causing a distortion of the image of the naif movement. Finally, the naif style is rejected by the critics in general, which veto any space in the media and refuse to take notice of its production.
We seek to offer a view of the production of artists who made or are still making the movement's history, complemented by younger artists struggling to conquer their space.
This selection is not intended to be exhaustive, and we apologize to all artists who are not in this book. We just needed to find the limits of what was possible, without starting a dictionary.
The realization of this book was only possible thanks to the complicity of the critic of even Geraldo Edson de Andrade, who is a deep connoisseur of this style. We also received enthusiastic support from collectors and all the people who gave their help and showed availability.
And we could not pass up this occasion without expressing our deep gratitude to all the artists who have placed their trust in us and have offered us their loyalty over the past 20 years.
It is necessary to develop the Brazilian character of our painting in order to assert ourselves outside and inside. It is necessary to cultivate the soul of the people so that we can cling to our roots and find the essence of existence.
(Jacques Ardies)